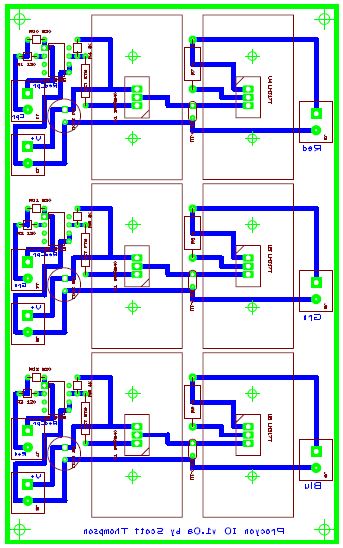 After hours of searching for "just the right" switching pre-regulator, I've given up with saving power and decided to give you all what I've been promising for years (?).
Please find attached a .zip archive that contains the PCB artwork, as well as the schematic and Gerber files (should someone want to have the boards made at a PCB shop). I have tried to annotate the PCB and schematic as much as possible, and the included bill of materials lists the heatsinks that I was picking from. Note that this circuit board is quite large due to my attempt at handling various user requirements and power supply options. My last portion of the PCB was to include a fuse for each of the channels, but that meant that I had to dig through my packed boxes (moving) to find the fuse holder that I used in order to draw the device on the board. All someone has to do is connect a fuse inline between each R/G/B channel's output and the 1W LED, though, so I decided to get everyone the PCB.
Fortunately for me, I have finished my electrical engineering degree (yeah!). However, I'm now in the middle of a move to Vancouver Island near Victoria, BC. I have a much more complicated version of this that is currently in use, but it doesn't handle the 26 kHz switching frequency like this linear design uses. I will provide additional circuits and PCBs when I get a less power-hungry driver created. Again, please know that the goal with this project was to (1) provide a proof-of-concept Procyon interface, and (2) use readily-available parts (read: through-hole or DIP parts) so that most hobbyists could make this PCB. I'm going to flash my Procyon with the latest firmware now to reduce the buzzing noise and go strobe myself into bliss.
Enjoy with my best wishes, --Scott Thompson